Mentally Challenged
Lost within
Sometimes the turmoil of a heart can burn the person from within and they lose their mind to the chaos of the day. At Udavum Karangal, we believe that a deranged person doesn't need your sympathy. They are in need of your love and time. Every minute you spend with them might help them find themselves.
Back home with a new lease of life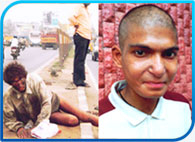 Sudeesh was 23 when we picked him from the market near Koyambedu. He was speaking in a language we couldn't follow. Luckily, our occupational therapist could understand Bengali and slowly, he started to confide in him during our work sessions. Initially, he even refused to take bath but as days went, he started helping us out with house chores. He kept talking about his family and one day, he spoke about a school near his house. We googled and found the place. With the help of the postal department, we were able to trace his house. Now Sudeesh is back with his family. Last heard, he was teaching Tamil to his sister!
Finding the meaning of life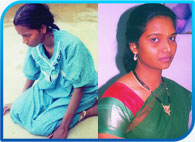 Bharathi was found roaming in the streets of Thiruvekadu with a ragged sari tied around her. It was after she came to our home that we realized she was pregnant. For some reason, Bharathi hated her child and wanted to kill her baby. We couldn't abort the baby as it was risky for the mother. She gave birth to a still born. Bharathi showed strong suicidal tendencies. It took us almost four years to get her to trust us. She then started sharing her issues with our house mother. She has been misused by her own brother-in-law and has been abandoned by her husband's family. Day by day, she started recovering under constant care and medication. Now, she has been completely cured and helps maintain our garden. She seems to find joy in every flower that blossoms under her care. Yes, we cannot undo her past but today, she has a future to look forward to.
Trampled flowers Mothers are believed to be Godly in our land. But there are demons who see know so such value. When little Rathi went out that night with her mother Sheela, she witnessed cruelty that crushed her young heart. Sheela was raped by ten men in front of her little girl. When they were brought to our home, Rathi refused to eat anything and Sheela was too scared to speak. Slowly, Rathi made friends with our school children. But for Sheela, the incident turned her into a psychiatric patient. We hope one day she too will find peace in this world.