Children of God
It knows no language, follows no religion, heeds no caste, a child is indeed an ideal human being but sometimes even they are shown no mercy. There are little ones deserted by their own families – left in bus stands, theatres and even dustbins! We at Udavum Karangal enlighten them through education, protect them with care and help them grow in love.
At the end, it was a happy beginning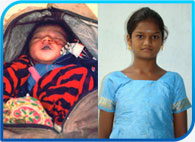 One day, we got a call at Udavum Karangal informing us of an abandoned baby in a crowded bus stand. We arrived there to find nothing but a travel bag. We were about to leave when we got another call asking us to check again. We opened the bag and found a baby that was almost blue due to suffocation. Little Selvi was brought home, and as days went by, she joined our school. She was never a bright student but she was what we called 'street-smart'.
Cast away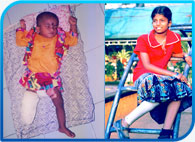 Savithiri's is a heart-wrenching tale. She was thrown away from a moving train and before the little one could cry out aloud, another train ran over her legs. She was barely alive when she was rescued from the railway station. Today, Savithiri has left behind her wary past and goes to our school with a lovely smile on her face.
They see only the caterpillar
Have you seen a caterpillar moving around, doesn't it irk you? If you have the patience to watch it closely, one day, you'll see a butterfly emerge. But don't we just crush it at sight.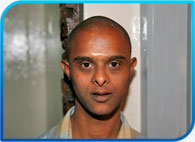 Sagar was found on our doorstep, wrapped in a towel with a little note asking us to take care of him. He was affected by Down's syndrome. More often that, his smile was the only answer we got for all our questions. Slowly, he started to respond to our house mother. Today, he is even able to make garlands and wall-hangings. Yes, miracles are possible with love!
Nothing is impossible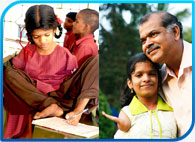 Rohini was born in a well-off family but she was not lucky to live with them. Little Rohini was very pretty but unfortunately, she was crippled. This child was brought to us by the driver as the family did not want to take care of a physically challenged girl. When we see Rohini painting and writing, we can see the power of positive energy in her. There is no difficulty in her life, only challenges that can be overcome!