Senior Citizens
At the dusk of life
After running our entire lives, we do get tired at the end of the circle. The legs can no longer run, the head can no longer think, a sense of desperation sets in. Death is always certain but it still remains uncertain. But old age can be more than just fretting over what is now no longer there, it can be about the present. At Udavum Karangal, we aim to give our elders a dignified life. With us, they are no longer alone.
When all is not well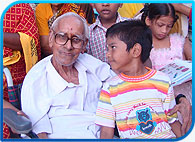 Satayanarayan's family was a happy picture - a beautiful daughter and a caring son. One month, he and his wife had gone to their daughter's place for a visit. They came back to get the shock of their lives - their properties were sold and their only son had left them without a penny. Their daughter was unwilling to take them in permanently as they were considered a burden. As he was a former LIC employee, his kind-hearted colleagues helped them for awhile but even they couldn't sustain. With a heavy heart and an empty wallet, this once well-to-do gentleman with his sick wife found a place in our home. Initially, they had a mixed feeling of angst and resentment. Slowly, they became a part of our family, they were seen playing with our little ones and even chiding them when they fight. It's been 15 years since they came to Udavum Karangal, now our home has got a firm grandpa and doting grandma and they have got a family which will never desert them, ever.
The broken puzzle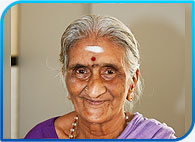 Imagine waking up one day and finding your life missing. That's what happened to Parviathiamal, who was struck by Alzheimer. Her first cycle ride, her wedding chaos, her child's babble and all such beautiful moments disappeared slowly and one fine day, her life was a blank screen. After she joined Udavum Karangal, she was kept in a calm environment. Apart from treatment to sustain further deterioration, she was treated with regular dose of love and care. To this day, she continues to live with a mist filling her mind, her heart though is safe with us.
Friends for life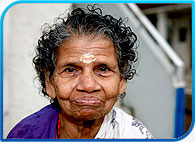 Papama was deaf and dumb; she was found begging in the streets. When she came to our home, she looked like a very shy person, not disturbing anyone unless necessary. It was only after she met Thaiamma, another deaf and dumb inmate, we came to know of the real 'her'. They became the cheerleaders of Shantivanam - our old age home. They danced, made fun of others in their own language and most of all; they found happiness in the company of each other.