Community Care
For the cause of community
Thiruvekadu is a village that has its entire livelihood built around the temple. The garlands, pooja items and autos are their only chance of making money. After our home was established, change slowly took over this obscure village.
With our nursing college, the girls now had a respectable career to look forward to. Even those women who chose to work as sales girls got an edge with our computer training. It was not just the girl's salary that was raised, she gained a new respect in the society and the status of her family too became better. For those who were working in the nearby export houses, our tailoring courses were such a boost. They no longer had to do the job of cutting and stitching over 2 years to get a salary. With the right education in hand, they are taken directly at a higher level.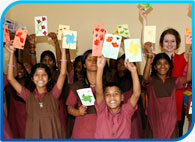 And last not but least, for all the young mothers who had to choose between their child and other mouths to feed, our crèche was a blessing. Now they leave the kids to our care and run their family in piece. It is not possible to change the world in a day's time but with your support and constant aid, this village has a new lease of life. It takes just a small candle to dispel darkness.