Residential Care
Children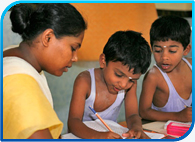 Infants born to our psychiatric patients, single mothers and abandoned little ones are taken care at
Pasamalar
. Here the house mothers take special care to ensure that the infants get all the nutrition and love they want. The children are regularly taken to pediatrician for health check-ups. When they reach 3 years of age, the little ones are put at
Sishu Bhavan
. This is where they learn the basics of life - reading, writing and yes, taking care of others as their own. Once the children reach the age of 10, they are put in different homes based on their gender. Our
boy's
town
is one happy place; you can see boys being themselves here - playing pranks, aspiring to be police officers, following latest updates in cricket. etc. The house mothers are happy as long as 'they study while they study and play while they play'.
Gokulam
comparatively is a calmer place as it houses our little ladies. The way they pray in unison before the meals, study hard and try different hairstyles is a sight in itself! Yes, sometimes they do give our boys a tough fight!
With these little ones filling our garden with laughter, there is a quiet corner in our house which you might actually miss while visiting us.
Kutti Paapas
- the home where we have our mentally challenged children. Here, we focus on making their lives as normal as possible. Of course, some children can never learn to be independent; we just let them be themselves. The housemothers here are specially chosen as they need loads of patience and understanding to handle our 'Kutti paapas'.
Sontham
- the children's village at Coimbatore has similar facilities and houses about 60 children in its premises.
Mentally challenged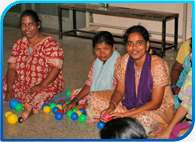 They are the most ignored members of the society. Isn't it a common sight in our society to see a deranged person roaming around the streets in ragged clothes? Don't they deserve to live a life with dignity too?
At
Athma Shanti
, we house such disturbed and abandoned female patients. We first have a counseling section and based upon the severity of their illness, they are given treatment and care. Caretakers here handle them with utmost attention as some of them have suicidal/ violent instincts.
Dignity home
is where our male patients are treated. As most of them have the maturity of children, they are given lots of care and love to soothe their troubled minds. With regular counseling, most of them open up and furnish further details about their family. After which, efforts are taken to restore them back to their home. Some even work as volunteers at Udavum Karangal after recovery.
Similarly, we have
Sakthivanam
and
Thanjam
units in Coimbatore taking care of our male and female patients and
Prashanti' Home of Hope
provides succor to male psychiatric patients at Thiruvannamalai.
Aged and dying destitute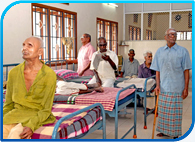 It is sad that the aged often find themselves totally abandoned by their family.
Malarvanam
provides a home to such male destitutes and also to those found dying in the streets. Most of the residents at Malarvanam either suffer from unattended diseases or are too aged to be independent. We try and help them recover to a normal state if possible else we help them with palliative care till their journey's end.
Karunai illam
at Maduravoyal welcomes you with a board that says, 'God resides here' and just outside the block is a calm graveyard. This building itself seems to show us the narrow line between life and death. The female aged destitutes are housed here. Isn't difficult to imagine a tomorrow with nothing to look forward to? We believe that every person on this earth deserves to live with dignity till her last day hence everyone here is given a little task to look forward to - like gardening, doing handicrafts, cutting vegetables etc. For those who are dying, constant care is given and their last wishes like donating eyes, or cremating as per their religion etc are fulfilled.