Educational Facilities

Education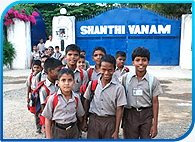 Udavum Karangal believes that it is only good education that can make a child self-reliant. With this sole purpose in mind, Ramakrishna Vidya Niketan was started in 1997 with about 150 children. The school imparts value-based education not only to our children but also to children belonging to other poor families in and around Thiruverkadu. As the nearby Government school doesn't have good facilities, our school has come as a boon for the deprived children. Our noon-meal scheme has been well-received by the community. Ramakrishna Vidya Niketan was duly approved by the Government of Tamil Nadu and started its Higher Secondary classes in 1999. Today, the strength of our school is about 2000 students!

Similarly, our school Ramakrishna Vidya Mandir provides quality education to the less-fortunate children in Coimbatore. At present, the strength of the school is around 500 children. We also provide books and uniform to under-privileged students. Our schools seek to give these little ones a future they deserve - where dreams fulfill their destiny.


Wings Mobile School – a school on wheels


The most important of all wealth is education." Udavum Karangal believes strongly in this sentiment and as such has focused its efforts on children. We work hard to enable less privileged children to have the resources to achieve their potential and make positive changes in their lives. We believe that only a strong educational foundation will help equip children for a better future.



Udavum Karangal has extended its literacy program to these socially and economically marginalized children who are not integrated into the regular mainstream educational system through a mobile school project called 'Wings Mobile School'

We are empowering the children between the ages of four and eleven belonging to the lower strata of the community, who do not have permanent schooling facility like the migrant construction workers, by providing them with enriched food, quality medical care and informal education so that they can become literate and thereby improve their way of life.
A Report on Wings Mobile School