Disaster Management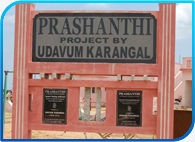 Disaster often strike us when we least expect them. When Tsunami struck the shores of Chennai in 2004, it swept hundreds of lives and left thousands of them homeless.
Udavum Karangal, being an ISO certified welfare organization with more than two decades of experience in service and caring 2000 residents at present, decided to involve in handling this huge crisis management.
Dealing with destruction
Udavum Karangal was one of the first NGOs to extend its co-operation in relief activity to the police department and the details are as follows:
26th Dec'04 - Within a few hours of the tsunami attack, Udavum Karangal deployed its 5 Ambulances along with 15 volunteers and ferried about 100 dead bodies to the mortuaries in the hospitals, the injured too were admitted in the hospitals.
The affected people along with their belongings were transported to the common shelters like schools, institutions, temples churches and community halls.
27th Dec'04 - Basic necessities like cooked food, milk, bread, biscuits, bed sheets, plastic utensils and medicines were distributed. Counseling was offered to the victims of tsunami who were traumatized. A few people were also accommodated in the units of Udavum Karangal and were looked after.
Distribution of relief materials thereafter: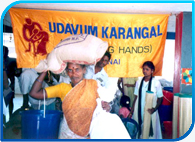 Udavum Karangal initially studied the situation of 3 villages comprising of 555 families and gave relief materials consisting of provisions, utensils, clothes, detergents, etc. After having met the government personnel deputed to tsunami rehabilitation, it was decided that Udavum Karangal should adopt Kanathur Kuppam in Kanchipuram district. This village has 87 families and most of them are very poor. As the people had lost their livelihoods, it was decided to provide 400 kg of fishing nets to the people to resume fishing after tsunami. Accordingly, the nets were (Gill nets) distributed in the month of May 2005 in the presence of Retd Director General of police Mr.V.R.Lakshminarayanan. Also, about 50 aged people of Kanathur Kuppam were provided with a set of dothies and sarees.
Reviving the cause of education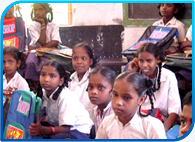 Udavum Karangal surveyed the need of the school-going children and identified 6 schools to be helped with necessary requirements in the affected areas of Kancheepuram and Villupuram.
A set of uniform, pen pencil, geometry box, note-books, school bag, slippers, stainless steel plate and tumbler and dolls were given to all the students. Also, a set of 142 books were given to all the schools in order to upgrade their library for the use of students.
Apart from the above, play materials like Chess-boards, Cricket kits, volley ball, soft balls, foot balls, carom boards, etc., were distributed to all the above schools.
Re-building homes and hopes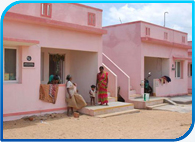 Udavum Karangal adopted Kanathur Kuppam in Kancheepuram district and built 72 permanent houses along with basic amenities like road, sanitation, drinking water, community hall, electricity connection, recreation-cum –play ground, rainwater harvesting, drainage, balwadi centre etc. Each house measuring appr 300 sq.ft. Was constructed on 3 cents of land at Kanathur Kuppam. The land required for construction was purchased from the neighboring landowners and houses were built as per the guidelines of the government. For those who had lost their all to the wrath of sea, this timely gesture helped in bringing back normalcy to a certain extent.