Surprise your dear ones - The Gift of Love
It was that day of the year again. Suma could see it all like a well rehearsed play: her friends calling to wish her, a card or two from her relatives, a cake (if he manages to remember!!). Her husband and kids were still in their undisturbed morning slumber. There, she stood in front of the mirror, reading her age through her reflection.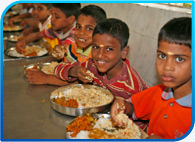 The telephone rings disturbing her lone thoughts. She picks up and hears a benevolent voice on the other end "many more happy returns of the day!". She thanks him while her mind hastily tries to discern who he is. As if in answer to her thought, he replies that he is "Mr. Vidyaakar from Udavum Karangal" Her eyes that widened in surprise, were now filled with tears, as he said her daughter had fed hundred children as a gift on her birthday. The grateful little ones had prayed for her well being. Her lips couldn't conjure a word as happiness overwhelmed her being. She had decided not to cry on her birthday, but now, she was sobbing. Wiping her tears of joy, she knelt and kissed her child. "Happy birthday Mom!" she heard her wish in a half-sleepy tone.
How wrong she was! This wasn't just another birthday. She had often found solace in the abode of God. But now, she experienced a far greater harmony in her soul. For her daughter had given her a very unique gift, a gift her heart will always behold, the blessings of innocent little hearts.
Come, join the celebration of love!
As their little hands join in prayer, God never fails to listen. Many of our well-wishers have experienced the goodness of the selfless prayers of our little ones.
"Your kootu prathanai (community prayer) has helped a lot for the reunion of my family" says a grateful Dr. Narmada.
"Every occasion in my family begins with the wishes of your children and their prayers "says a beaming Mr. Parthasarthy.
You can gift this bliss to your loved one on their special day. On that day, your dear one will get a surprise call from Udavum Karangal. A volunteer would wish them and also enlighten them on the special gift you have chosen. As our little ones offer prayer, the smile that blossoms at that moment shall linger in their eyes forever.
You can surprise them on any of these special occasions. Birthday, anniversaries, new assignments, reaching 60,80 or 100 years, passing exams, engagement, wedding, promotion, birth of a child, house warming, new project, speedy recovery, preparing for a surgery, miraculous escape from an accident, family reunions and any crisis situation.
To contribute towards the SYDO (Surprise your dear ones) program, you can choose from any of the schemes below.
When you opt for a SYDO scheme, do mail us the below details:
The person to be wished:
Their Contact no and Email Id:
Your relationship with the person:
Date of feeding:
Occasion:
Best time to call:
The amount donated:
Your name:
Your address:
Click here
to get in touch with us
Please send an email to our Chennai office at
udavum@vsnl.com
with contact details of the person(s) to be surprised.
Surprise your Dear Ones
(You can provide lunch/dinner etc for our residents by sponsoring meals under these schemes. This will be a better opportunity to share and celebrate your birthdays, anniversaries etc.)
| | | |
| --- | --- | --- |
| To Provide baby food for an infant/month | US$ 20 | Rs.1000 |
| To Provide Snacks/Fruits/Juice for a unit of 100 | US$ 24 | Rs.1200 |
| To Provide breakfast for 100 children | US$ 40 | Rs.2000 |
| To Provide Lunch or Dinner for a unit 0f 100 | US$ 60 | Rs.3000 |
| To Provide Lunch or Dinner for all 300 kids | US$ 180 | Rs.9000 |
| To Provide Lunch or Dinner for all residents | US$ 720 | Rs.36000 |
| Sponsor bag of Rice | US$ 50 | Rs.2500 |
| Sponsor Vegetables & Groceries for a day | US$ 150 | Rs.7500 |