The Man Behind
Every seed nurses a hope within; it only needs a tending gardener to come alive.
Papa Vidyaakar
A mother is never taught how to care for her child; it is something that blossoms in her as a being. Mr. Vidyaakar has been blessed with this urge to take care of not just his family but even total strangers. Even as a child, he never missed a chance to shower his love on someone who was in need of a helping hand.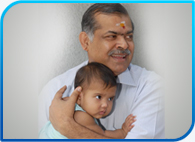 Born in a middle-class family at Kollegal, Mysore, Vidyaakar's first dream was to become a male nurse. He believed that an ear to hear and a heart to console could go a long way in making the ailing patient feel better. It was an accidental meeting with Mr. Ramakrishan from Chennai that led him to a less-trodden path. Vidyaakar's long journey soon began in this mentor's humble workshop which he used as a community centre to address the societal issues of the nearby slums. Udavum Karangal (Helping Hands) was thus born way back in 1983, in the slums of NSK Nagar, Chennai.
When Mr. Vidyaakar took home a wailing child abandoned in a cinema theatre, little did he know that this baby was to be the first member of his soon-to-be large family. Slowly, other less-fortunate brethren like AIDS patients, dying destitutes, psychiatric patients and more little ones found shelter under his wings. Today, with the same determination and the dedicated help of about 150 volunteers, he has turned Udavum Karangal into a haven for about 2000 socially under-privileged people.
Academic Background
| | | |
| --- | --- | --- |
| 1. | M.S.W. | Master of Psychiatric social work. (Madras School of Social Work) |
| 2. | M.A. | Sociology - Madras University. |
| 3. | D.P.C. | Diploma in Psychology & Counseling (CMC Vellore) |
| 4. | D.A.L.L. | Diploma in Administration & Labour Law (Annamalai University) |
| 5. | B.L. | Madras Law College. |