Our Team
Udavum Karangal has a team of people who work in different fields to fulfill the vision of the organisation.
Governing Body - India:
Udavum Karangal is a registered Society and it has a statutory governing body with 10 members. The members of the society are from various walks of life united by social responsibility and commitment to serve the under privileged in the society.
Governing Body - US Chapter:
Udavum Karangal of USA is an IRS recognized charity organisation in US with a six-member board of directors. The board of directors includes Indian professionals settled in US and like-minded US nationals, with a heart to reach out for the downtrodden in India.
Dedicated Volunteers:
They are the backbone of the organization, who provide 24 hrs selfless service to make this place a home. Every smile that you see here is because of their dedication and passion.
Professional Staff:
They are Social Workers, Psychologists, Occupational therapists, Nurses, Paramedics and Administrative associates whom Udavum Karangal engages for professional management of the organization.
Governing Body - India
UDAVUM KARANGAL - BOARD OF MEMBERS
| | | | |
| --- | --- | --- | --- |
| No | Name | Post | Profession |
| 1. | Mrs. Soulina Arnold | CHAIRMAN | Social Worker |
| 2. | Mr. S. Vidyaakar | SECRETARY | Social Worker |
| 3. | Mr. Sridhar V. Iyer | TREASURER | Company Manager |
| 4. | Mr. Ratan Vidyaakar | JOINT SECRETARY | Social Worker |
| 5. | Mr. M. Balasubramaniam | MEMBER | Rtd Officer, LIC |
| 6. | Mr. E. Rajendran | MEMBER | Industrialist |
| 7. | Mrs. Mallika Ravinder | MEMBER | Home-maker |
| 8. | Mrs. R. Rajalakshmi | MEMBER | Home-maker |
| 9. | Mrs. A. Loba Mudra | MEMBER | Advocate |
| 10. | Dr. Catherine Victoria | MEMBER | Psychiatrist |
Governing Body - US
UDAVUM KARANGAL OF USA - BOARD OF DIRECTORS
| | | |
| --- | --- | --- |
| No | Name | Post |
| 1. | Mr. S. Vidyaakar | Founder |
| 2. | Ms. Padmini Ranganathan | President |
| 3. | Mr. Sivasubramanian | Secretary |
| 4. | Ms. Geeta Kannan | Treasurer |
| 5. | Mr. Sundar Balasuryan | Director |
| 6. | Mr. Richard Byrnes | Director |
Dedicated Volunteers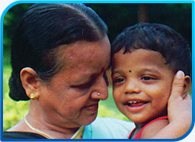 Ms. Triveni
- For the past 15 years, Triveni aunty has been more than a caretaker in our home, she has held the little ones tight when they were scared, fed them before they cried for food, lulled them to sleep. She has been the mother they never had.
Mrs. Meena Menon
- When she saw her children well-settled, she was happy that she had done her duty. But she felt that something was still missing. An encounter with Udavum Karangal changed her life forever. She soon realized that she has adopted a family of 60 children in Coimbatore and along with it every volunteer who worked there. Ten years later, she works non-stop without any holidays, without any complaints. Her life is now complete.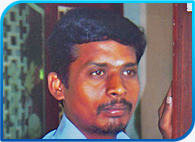 Mr. Vadivelu
- For some people, helping others is so much a part of their lives, they no longer think of it as something worth mentioning or even thinking. Vadivelu, our volunteer, is one of our invisible angels; he drives around to rescue children/ elders from the darkest of situations and even performs last rites for destitute people who have never seen a day of dignity in life.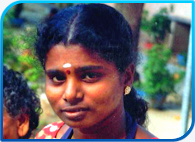 Ms. Srividya
- When you visit our psychiatric women patient's home, you'll see most of them smiling and waving at you. They were once people who had lost their mind to the troubles of this world. Today, under the constant care and love of Srividya, they are slowly traveling towards a normal life.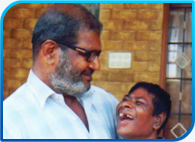 Mr. Bijuraj
- Sometimes all they need is a soul to share their life. Bijuraj who volunteers in our psychiatric male patients' home believes that a patient listener can heal half the wound. He has been more than a manager here; he is a friend with whom they share a part of their lives.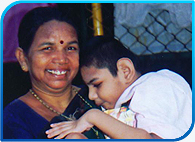 Ms. Kunni
- All children are messengers of God, some are more special. Kunni, who came here as a deranged person herself has recovered fully and is now taking care of our special children. Yes, they do not speak languages like we do, they cannot understand concepts like we do nor work like us. Yet Kunni speaks to them in the language they understand - the language of love.